16/06/15 15:30

MAKE SURE THIS DOESN'T DESTROY YOUR INTERNET ACCESS WHEN YOU NEED IT THE MOST..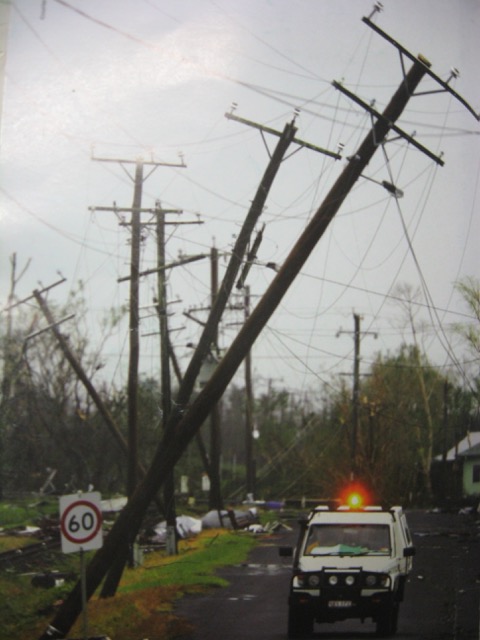 Image source: "Taken by Storm-Cyclone Larry 20/3/2006"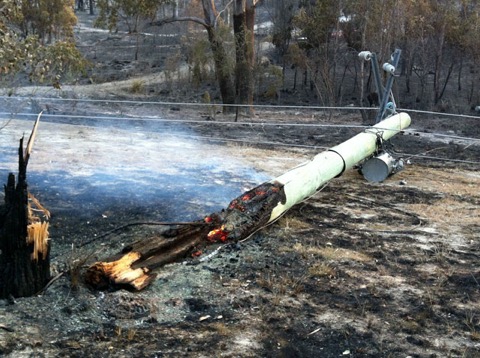 Image source: Aurora Energy-Restoration efforts image gallery

https://www.auroraenergy.com.au/Bushfire/Restoration-efforts-image-gallery

& STOP THIS UGLY MESS OF OVERHEAD CABLING FROM PROLIFERATING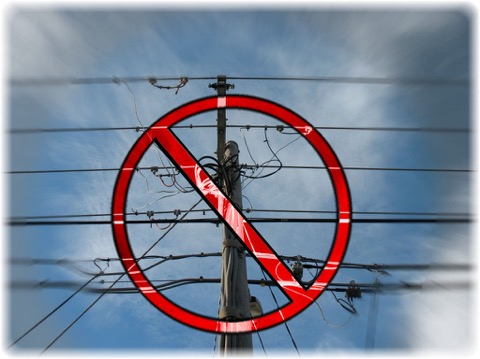 Image source: Dr Ross Kelso

BY PUTTING ALL OF THE NBN FIBRE CABLING UNDERGROUND!


The Federal government, through its wholly-owned company NBN Co, has commenced the 10 year roll-out of an optical fibre-based National Broadband Network (NBN) to serve 93 per cent of Australian premises. Did you know that one-quarter of the local access network will be constructed aerially? Yes, it will be strung overhead on existing electricity poles in a manner not all that different to what is depicted in the above photograph.

This move is backward, dishonest and deceitful:

Backward
Why would any sensible person do this? The NBN is the next-generation of telecommunications infrastructure, intended to carry lifeline communications. It makes no sense to string it overhead on electricity poles that are all-to-often rotting in the ground and subject to the damaging effects of errant road vehicles, storms and bush fires? How can we honestly say to our children that this quarter of the NBN constitutes an investment in their future?

Dishonest
It is simply dishonest to justify aerial construction on the grounds that it is cheaper and faster to roll out. The cut-over of the first Tasmanian services, delivered aerially, was clearly stage-managed to coincide with the 2010 federal election — so the speed of roll-out appears to be politically contrived. If, say, a 90 per cent underground roll-out takes another year or so to complete, any loss of benefit from this delayed availability of faster broadband would be almost trivial. Further, the additional cost of increasing the underground portion from 75 per cent to 90 per cent merely brings the total project cost up to the previously long-stated budget estimate of $43 billion. (NBN Co has not revealed their cost estimate for a 100 per cent underground roll-out, but they have no incentive to aim for an affordable outcome.)

Deceitful
Following the huge community outcry against the unrestrained erection of aerial/overhead Pay TV cables during the mid-1990s, the Howard government established a legislative mechanism to protect residents from this ever happening again. Initially, the Rudd and now Gillard governments white-anted this protection by working with the state Labour governments to fast-track aerial roll-out. They are using dishonest justification for this, but in reality it is only for short-term political expediency. Now, Minister Conroy is actively planning to totally remove this protection at the federal level.

BENEFITS OF PUTTING ALL NBN CABLING UNDERGROUND

There are clear benefits from having utility services wholly underground, and the National Broadband Network is no exception:

Greater service reliability, with an underground network unaffected by disruptions to electricity poles and wires caused by vehicle collisions, storm-driven debris, bush fires and pole-route realignment;

Enhanced local amenity, particularly a 'greener' streetscape where street trees are allowed to grow and not be mutilated just to provide clearance from lines;

Safer working conditions for NBN staff by lower use of ladders and working clear of electricity lines;

Premature renewal of wooden power poles avoided;

Lessen our reliance on overhead utility infrastructure and thereby bring forward the opportunity to underground all remaining electricity lines over future years.

Remember that the NBN is a nationally-funded and mandated monopoly supplier of broadband infrastructure that end-users will rely upon to handle communications of lifeline importance! Why knowingly build second-rate infrastructure for our children?

Listen to what "Macca" (Ian McNamara) said on 'Australia All Over', ABC Local Radio at about 9.06am on Sunday 20 February 2011.



Then note this memorable quote from Greg B. of Sydney, 21 February 2011: "Next time we have a bushfire we will find that it won't be our copper wires which come down but the communication system of the next millennium, the NBN. The NBN will, of course, join the power lines and once again we will have no power or communication – Groundhog Day."

Read
a detailed rebuttal
of the disgraceful proposal from the
Minister for Broadband, Communications and the Digital Economy to dis-empower the public by neutering local planning powers over the widespread roll-out of aerial cables for a National Broadband Network.

And finally, please take note of the following City of Sydney resolution on 15 October 2012: "
Council investigate the feasibility of placing overhead telephone and communications cables in the City of Sydney underground in conjunction with the roll out of the Federal Labor Government's National Broadband Network
".
You can make a difference. ACT NOW!